Rigour research is of paramount importance to attain the vision of the Eastern University, Sri Lanka, by impacting transformational change in society. Consequently, it will facilitate enhancing the university's reputation. The primary justification for creating a Center for Multidisciplinary Research is bringing together individuals with complementary interests and different fields to create a focus for joint research, seeking funding, industrial collaboration, and forming a partnership with foreign Universities. The research will be of national significance with a focus on international recognition.
VISION
Impacting transformational change in society
MISSION
To create an institutional space dedicated to quality research, education and community outreach guided by sound academic, scientific and ethical principles
Objectives of the Research Centre
The objectives of establishing CMR are to:
Promote collaborative-interdisciplinary research and enhance research networking as well as its capacity at national and international levels.
Enhance education, training and research development and strengthen relevant skills for various stakeholders, inclusive of postgraduates and undergraduates.
Enrich and expand the resources for research, and relevant activities.
Utilize effectively the existing resources and focusing research supports for the University community.
Transfer and mobilize the outcome as well as knowledge gained through researches for the benefit of the University and society.
Provide consultancy services to the government, private and non-government organizations promptly whenever and wherever is need.
The Values of the Center
Integration: We believe that EUSL research programs and faculty are doing a great job. CMR will synergize these contributions through integration and knowledge exploitation.
Facilitation: CMR believes in facilitating faculty members and researchers. We will ensure that our initiatives are demand-driven and owned by faculty. It is also our job to ensure the appropriate promotion of the research output of EUSL with internal and external stakeholders.
Collaboration: All our initiatives will ensure the spirit of collaboration among faculty from different departments of EUSL and other schools and universities.
Organogram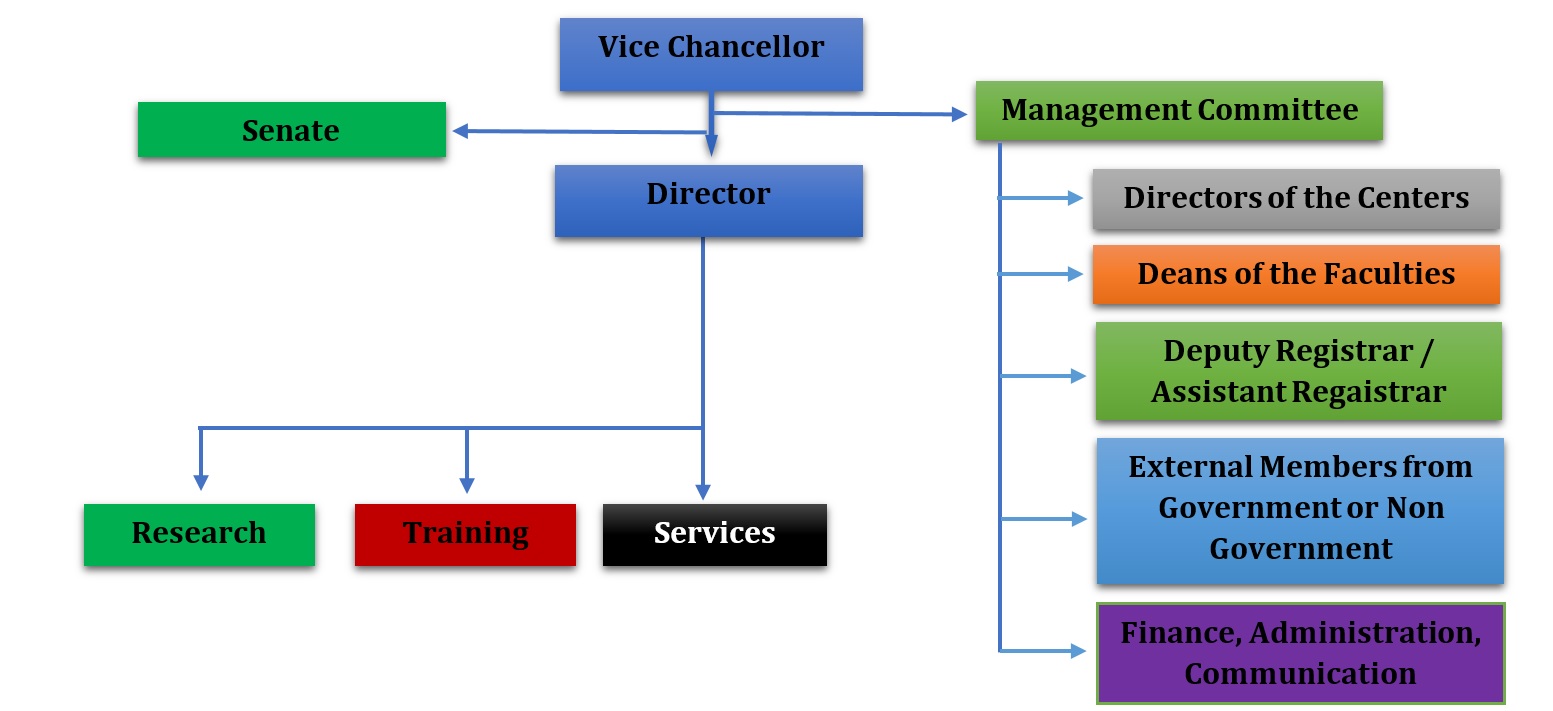 The Governing Body of CMR
The center shall be governed by a 'Governrning Body' comprising the following members:
| No | Name | Designation | Position |
| --- | --- | --- | --- |
| 1 | Prof V Kanagasingam | Vice-Chancellor | Chairman |
| 2 | Dr P R Fernando | Senior Lecturer | Director |
| 3 | Mrs N Nirumithan | Deputy Registrar | Convener |
The Management Committee of CMR
The center shall be managed by a 'Board of Management' comprising the following members: 
| No | Name | Position |
| --- | --- | --- |
| 4 | Dr. (Mrs). F. B. Kennedy | Director / SVIAS |
| 5 | Dr. K. Arulanandem | Director / CICL |
| 6 | Senior Prof. P. Vinobaba | Dean / Faculty of Science |
| 7 | Dr M. Pagthinathan | Dean / Faculty of Agriculture |
| 8 | Prof. J. Kennedy | Dean / Faculty of Arts & Culture |
| 9 | Dr. S. Jeyarajah | Dean / Faculty of Commerce & Management |
| 10 | Dr. (Mrs.) A. N. Arulpragasam | Dean / Faculty of Health Care Sciences |
| 11 | Dr. T. Mathiventan | Dean / Faculty of Technology |
| 12 | Mr. S. Thadchanamoorthy | Dean / Faculty of Applied Science |
| 13 | Mrs. K. Santhrakumar | Dean / Faculty of Communication and Business Studies |
| 14 | Prof. S Sutharshan | Chairman/ Research Council |
| 15 | Mr. W. J. Jeyaraj | Librarian |
| 16 |   | National Science Foundation / External Member |
| 17 |   | National Research Council / External Member |
| 18 | Mr. A. Pahirathan | Registrar / EUSL |
| 19 | Mr. M. M. M. Fareez | Bursar /EUSL |
Activities of the Centre
Developing policies and strategies for CMR, focusing to National and International Research Priorities.
Promoting postgraduate research programs nationally and internationally.
Facilitating staff and student exchange programs at both National and International levels.
Organising scientific forums to disseminate knowledge and skill through research talk, seminars, webinars and Conferences.
Promoting and supporting to develop the knowledge, capabilities and capacity of the inventors / researchers within and outside the university.
Identifying suitable thematic areas to undertake researches to accommodate the expectations of the community / industry / institutions.
Motivating and encouraging staff to find/apply research grants locally and internationally.
Encouraging researchers to engage in collaborative researches, especially with outside institutions of national and international levels.
Providing an over-arching structure for research activities in all academic departments.
Taxonomy